Spring break plans- Niagara Falls!
I haven't finished all travel blogs for the winter break yet, but now I alredy have the spring break pictures on my hands

… oh my, blogging is that kind of thing that you have to keeping doing and doing and doing it over and over again! It's a committment! I like it, whatever. So, here we go, our ultimate goal for this one-week spring break is to visit Niagara Falls- from both side of the States and Canada.
Before taking a look at my travel plan, let's see Niagara Falls Illumination first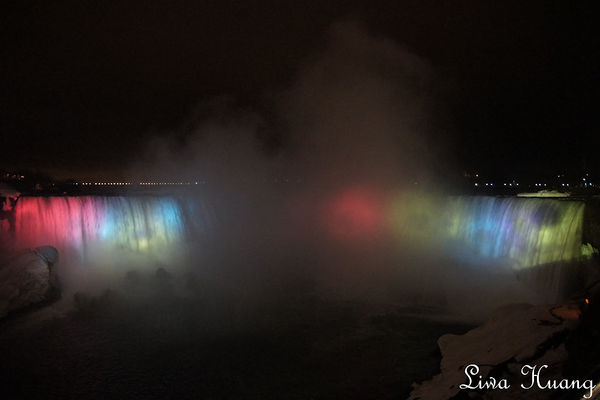 (the above pic is Horseshoe Falls; the below one is American Falls & Bridal Veil Falls)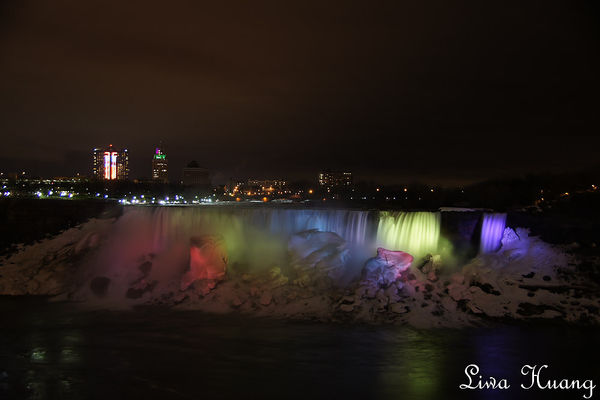 Check our schedule!
3/18 Fri 9:30 Champaign, IL-> (2+1 hrs) Lunch @Cheesecake Factory, Indianapolis, IN-> (3 hrs) Columbus, OH: Ohio Statehouse-> The north Market -> Topiary Garden-> Dinner @Japanese Oriental Restaurant -> Hotel: Courtyard by Marriot Dublin
3/19 Sat 9:00 OhioState Univ. -> COSI-> Battelle Riverfront Park -> Lunch @ Minga Korean Restaurant ->(1 hr) LongabergerHome Office -> (2.5 hrs) Pittsburgh, PA: Square Station -> Monongahela Inclines to Mt. Washington -> Dinner@ Rose Tea Cafe (it's supposed to be Church Brew Works & Restaurant) -> Hotel: Courtyard by Marriot Pittsburgh Airport
3/20 Sun 10:00 Brunch @Primanti Brothers -> Andy Warhol Museum -> Point State Park-> Pittsburgh & Carnegie Mellon University (Cathedral of Learning, Carnegie Museum of Art,Heinz Chapel, etc.) -> (4 hrs) Dinner @ Anchor's Bar, Buffalo, NY -> Hotel: Hyatt Regency Buffalo
3/21 Mon 10:00 Martin House/Frank Lloyd Wright -> Brunch @ Ted's Hot Dogs -> (0.5 hr) Niagara Falls: the US State Park (Observatory, Goat Island, Three sisters Island, etc.) -> Afternoontea (Wings) @ Donatello's -> Rainbow Bridge to Canada -> Niagara Falls: Canada -> Cliffton St. -> Niagara Illumination -> (Casino) -> Hotel: Marriot Fallsview Hotel and spa- Niagara Falls
3/22 Tue 10:00 Table Rock& walkalong the falls -> Niagara's Fury 4D -> Lunch@ Taki Japanese -> FloralClock ->Inniskillin Winery Tour -> Niagara-on-the-lake -> (2 hrs)Toronto, ON -> Dinner @Duff's famous wings -> Hotel: Bond Place Hotel
3/23 Wed (snowy day ruined every plan >"<) 9:00 City Hall & Old City Hall -> Art Gallery of Ontario (AGO) -> OCAD Univ -> (Univ. of Toronto) -> Lunch @ Buk Chang Dong Soon Tofu -> St. Lawrence Market -> Eaton Center -> Take a rest in Hotel due to heavy snow -> Dinner @ GUU Japanese Izakaya -> Dundas Square & Tim Hortons Donuts -> Hotel: Bond Place Hotel
3/24 Thu 8:30 Walking city tour: St. James Church -> Gooderham building -> Breakfast @ St. Lawrence Market -> Hockey Hall of Fame -> Union Station -> CN Tower -> Lunch @ Pho Hung (meet friends) -> (4 hrs) Detroit, MI -> Dinner @ Fishbone (Greektown) -> Hotel: Courtyard by Marriot Detroit Downtown
3/25 Fri 10:00 Detroit, MI -> (6 hrs) Champaign, IL
We'd driven our "moving castle" for near 1,700 miles, and probably gained 4 pounds during this week because we ate too much delicious food and numerous Pringles & Maple cookies!

haha!
Looking forward to more details later…